We can help you preserve the health of your trees in every season.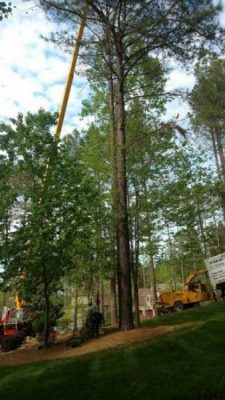 Tree Care in Denver NC – The trees in your yard add beauty and shade throughout the year, so taking good care of them should be one of your top landscaping priorities. What becomes more difficult is understanding how to care for your trees so they remain healthy and beautiful over the course of their lifetime. Not only do different species of trees require different care, but landscaping preferences and tree placement can also affect the ways in which tree maintenance and management are handled over time.
At Top Notch Tree Service, we realize how time-consuming it can be to take care of your trees properly, which is why we are here to help with all of your tree care needs.
Whether you want us to remove an old stump in your front yard or trim all the trees lining your garden, we can handle whatever project you have for us in Denver, North Carolina. Tree care also includes knowing the right placement and right time to achieve the best results from these important landscaping features.
We also want you to know that the time of year affects what you should do to maintain your trees. We can provide seasonal tree care solutions that maintain the vitality and health of your trees and ultimately keep them looking their best year-round. Additionally, as part of our tree care services, we can help if one of your trees has been compromised by disease. We urge you not to wait to take action; instead, let our team help you find solutions for remedying the issue as soon as possible. When you turn to us for tree care, our ultimate goal will be to restore your landscape and preserve the health of your trees moving forward.
Another important aspect of tree care is dealing with storm damage that breaks your tree branches. While severe storms cannot always be predicted, and the aftermath is often messy, having our tree care professionals provide the services you need can help preserve and protect your trees after storm damage. Furthermore, should a tree suffer enough damage that it cannot be salvaged, we can provide the tree removal services required to make your landscape look its best. You might even have us remove the old stump and plant a new tree in its place!
Working with tree care experts is an essential part of making sure your home looks its best, both for your own enjoyment and the health of your landscape. At Top Notch Tree Service, we want to keep your trees looking great during every season. We'll be happy to share additional tree care tips and offer information about our complete list of services. If you have questions about tree care, have a tree that needs attention due to disease or damage, or want to have us remove a stump or plant a new tree, we are just a quick phone call away. We look forward to becoming your tree care professionals of choice!
---
At Top Notch Tree Service, we offer tree care services for people in Mooresville, Denver, Cornelius, Troutman, Statesville, Huntersville, Davidson, Terrell, Sherrills Ford, Lake Catawba, and the Lake Norman area, North Carolina.