We want to help you take better care of your trees.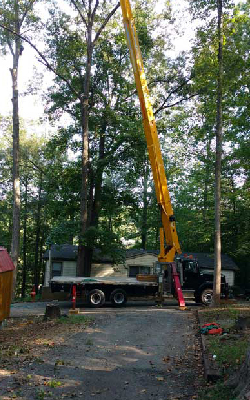 For most homeowners, taking care of their trees involves watering them every once and a while and trimming them. Beyond that, most don't know what else it takes to keep their trees in prime condition and help them grow and thrive for many years. This is where we come in at Top Notch Tree Service! Not only can we help you care for your trees, but we're also here to provide helpful tree care tips whenever you need them.
One of the biggest tree care tips we want you to keep in mind is that your trees need different things based on the season. For example, in the fall, you need to have your trees thoroughly trimmed to prepare for winter. This prevents diseased tree limbs from becoming brittle and dry and prevents the risk of them breaking and causing damage to your property or another person.
Another tree care tip we can't stress enough is to make sure you remember how important regular maintenance is. When you turn to us, we can help you come up with a comprehensive tree care plan, whether you have new trees on your property or older, mature trees, to ensure your property maintains its curb appeal year-round.
For more tree care tips and guidelines on taking proper care of your trees, we're always here for you at Top Notch Tree Service. Contact us today if you have any questions or if you'd like to find out more about the services we offer!
---
At Top Notch Tree Service, we offer tree care tips to people in Mooresville, Denver, Cornelius, Troutman, Statesville, Huntersville, Davidson, Terrell, Sherrills Ford, Lake Catawba, and the Lake Norman area, North Carolina.