Our tree services are designed to keep your trees healthy, beautiful, and safe.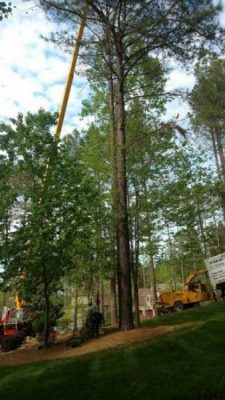 There are some people who wonder why anyone would worry about having tree services at their Cornelius, North Carolina home or business when trees seem to do just fine in the middle of a forest with no intervention whatsoever. At Top Notch Tree Service, we challenge you to take a walk through a forest and see just how unruly and full of unhealthy trees most wooded areas truly are and ask yourself if that is what you want for your property. Most people would say no, plus you probably don't want to have to keep replacing unhealthy trees and waiting additional years to get the maturity you desire from them. In addition, unhealthy trees can pose a danger to your home and those walking around outdoors.
We offer a wide variety of tree services that will give you the beautiful, healthy trees you want for your property. Among those services are tree restoration, trimming, and sharing tree care tips with you. We can also assist you when the worst happens and you need storm damage cleanup or tree removal. We have more than 25 years of experience in the tree industry, so you can be confident that your tree services will be performed properly and efficiently. For your peace of mind, we are fully insured and take safety protocols very seriously to protect your property and anyone in the vicinity.
See Our Top Notch Tree Removal Pros in Action
If you have any questions about our tree services or would like to schedule an appointment or discuss your project further, don't hesitate to contact us.
---
At Top Notch Tree Service, we offer tree services for people in Mooresville, Denver, Cornelius, Troutman, Statesville, Huntersville, Davidson, Terrell, Sherrills Ford, Lake Catawba, and the Lake Norman area, North Carolina.