Our tree services for the Denver area are always completed with care and attention to detail.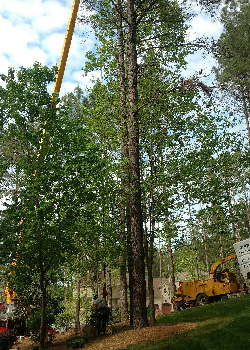 Tree Services in Denver – Unless you happen to have a property that is completely devoid of trees of any kind, there is a good chance you will require tree services at some time or another. Whether you are looking for tree maintenance to keep your trees healthy and looking nice or you have one that needs to be removed because of storm damage or another reason, you can count on us at Top Notch Tree Services to exceed your expectations.
We offer a wide variety of expert tree services, and we take pride in our work and the efficiency of our team.
The owner is always on the job to ensure all goes as planned and that the cleanup is done meticulously, so you'd never know we were there. We provide tree services that are pertinent to the species, age, and condition of your trees, so they can provide the shade, beauty, and other benefits you expect from them.
There are many different tree services you'll need throughout the year, and we're happy to provide you with our recommendations for keeping each one of your trees in top condition. We recommend trimming regularly to reduce storm damage and keep any diseases from spreading throughout the tree. We are knowledgeable about tree diseases and how to treat and prevent them, so your trees can enjoy the long life their species is capable of living.
See Our Tree Experts in Action at Top Notch Tree Service
If you have questions about our tree services in Denver or would like to make an appointment for a free tree assessment and quote on our tree services, don't hesitate to contact us.
---
At Top Notch Tree Service, we offer tree services for people in Mooresville, Denver, Cornelius, Troutman, Statesville, Huntersville, Davidson, Terrell, Sherrills Ford, Lake Catawba, and the Lake Norman area, North Carolina.