Turn to us for thorough, effective, and safe tree removal services for your Denver property.
There are many reasons why you should call us at Top Notch Tree Service when you need tree removal assistance in the Denver, North Carolina area. The first is that it can be dangerous, especially if you lack the proper equipment and experience. Not only could you get hurt yourself, but if the tree falls improperly, it could damage your home, your neighbor's home, vehicles or other structures or items around your properly.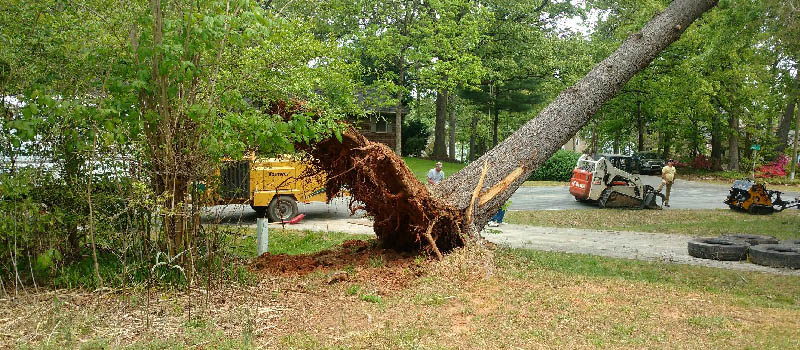 The second reason is that we are very thorough. We handle the stump grinding. We perform meticulous clean-up, so that you'd never know we had been there other than you have one less tree. Another reason to call us for tree removal is to get a professional's opinion about the health of your tree. If you are planning to remove it because you believe it to be beyond saving, you might be pleasantly surprised that our tree restoration services might be able to make tree removal unnecessary.
4 Reasons to Remove Damaged or Dead Trees Right Away
There's a damaged or dead tree in your yard, and since it isn't hurting anything (right now), you don't see any good reason to contact local tree removal companies for an estimate on digging it up and getting rid of it. While this may be your mindset right now, there are several good reasons why contacting us at Top Notch Tree Service for removal is a good idea:
Dead trees mean more pests—Your probably already pay for a pest control service to come and spray and keep pests away from your home. Even if your dying tree is a short distance from your home, unwanted pests may try and make a home for themselves here and eventually move into your house.
Your curb appeal will suffer—Chances are, you don't love the way that damaged or dead tree in your yard looks. Instead of ignoring it, do your curb appeal a favor, and let us come and be the tree service company to take care of it!
Your other plants could be affected—If your tree died because of a disease, your other trees and plants could be affected by the same problem. Protect the health of your flowers, trees, and bushes near the dead tree by eliminating the tree from your yard as soon as possible.
Branches may fall as time passes—Falling tree branches are a safety hazard. Keep your property safe by letting us remove the dead tree before anything happens to you, your family members, or a visitor.
We follow strict safety guidelines and methods for tree removal, and our owner is on the job to ensure everything is done properly. We take pride in our work and the efficiency of our team to provide you with excellent service that will exceed your expectations. If you need tree removal or any of our other tree services, including trimming, storm damage tree care, or tree restoration, don't hesitate to contact us for a free assessment and quote. We also perform tree removal and other services for commercial customers.
---
At Top Notch Tree Service, we offer tree removal services for people in Mooresville, Denver, Cornelius, Troutman, Statesville, Huntersville, Davidson, Terrell, Sherrills Ford, Lake Catawba, and the Lake Norman area, North Carolina.
Similar Services We Offer: