Let us take the guesswork out of summer tree care for your Mooresville property.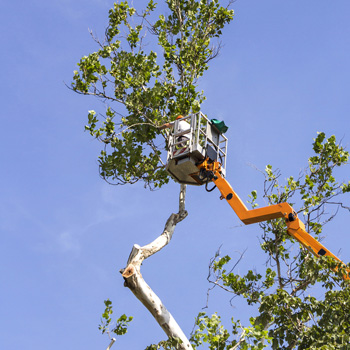 Things begin to come alive again in the spring, and by summer, they are in full swing. That doesn't just mean your Mooresville, North Carolina landscaping. It also means bugs and summer storms. Here at Top Notch Tree Service, you can entrust us with your summer tree care, so you can enjoy all that summertime offers without worrying about what could be attacking your trees.
Our summer tree care includes examining your trees for insect infestations and disease, so they can be resolved before they become a larger problem. Trimming off diseased sections is the best defense against damage spreading and allows your trees to concentrate on growth in the healthy areas. We recommend that you do not use commercial bug repellent products because most are ineffective and the unhealthy chemicals aren't good for the tree or your family.
Making Your Trees Storm Resistant
Summer is about picnics in the backyard under your most beautiful shade tree and frolicking in the pool on a hot day. The last thing on your mind is how a summer storm could put a big damper on both of those activities – possibly for a long time. Whether it is a typical summer storm or a hurricane that brings damaging winds as it moves inland, your trees can be severely damaged and cause damage to your home and property.
One can't halt Mother Nature from her wrath, but with proper summer tree care, we can help your trees fare better in severe weather. By examining your trees for signs of disease, we can resolve problems that can weaken your trees. We'll take care of insect infestations and trim dead or dying branches. This also helps your tree grow stronger in other areas, as it isn't putting all its effort into fighting the existing problem.
The healthier your trees are, the less likely they'll shed branches that make a mess at best and at worst damage your swimming pool, roof, vehicles, shed, and other outdoor structures. The summer tree care provided by our professionals here at Top Notch Tree Service will also help your trees stand strong and proud through winter storms. Let us assess your trees and give you professional recommendations as to how to get your trees healthy. Should any of your trees be past the point of saving, our comprehensive tree removal service, including stump removal, will help you avoid a dangerous situation during the next severe summer storm.
During our summer tree care visit, we will look for conditions that could be harming your trees, such as debris around the base of the trees or not getting enough water. You can also call on us after a summer storm to take care of damage that has occurred. By keeping up with summer tree care, your trees stand a better chance of surviving summer storms, as well as the colder months ahead.
If you have questions about summer tree care or any of our tree services or need advice about how to best care for your trees all year long, don't hesitate to contact us. Schedule your free tree and property assessment today.
---
At Top Notch Tree Service, we offer summer tree care services for people in Mooresville, Denver, Cornelius, Troutman, Statesville, Huntersville, Davidson, Terrell, Sherrills Ford, Lake Catawba, and the Lake Norman area, North Carolina.