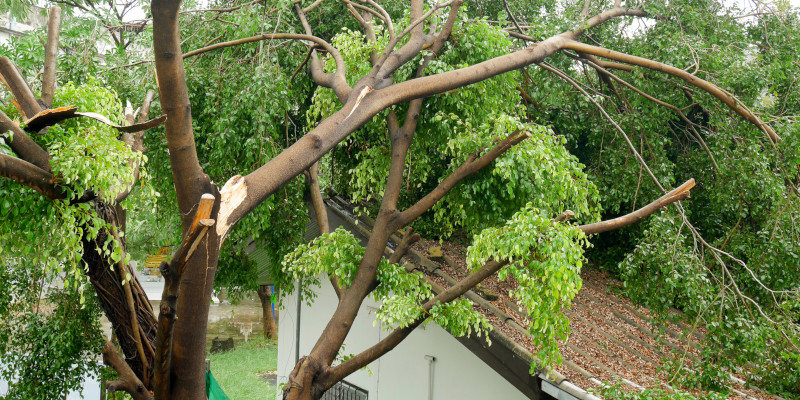 When there is bad weather, it can do damage to the beautiful trees on your property.  Trees can be damaged by high winds, lightning, hail storms, and even heavy rain or snow storms. Branches can crack and break off of your trees.  Tree limbs can be scattered all over your property.  In severe cases, trees can fall on your home and cause damage. The best thing to do when a storm causes damage to your trees is to call in an expert for storm damage cleanup.
It is important to call in a trained professional for storm damage cleanup because they can safely and efficiently inspect all of your trees for signs of damage.  They can spot cracks in the tree that could cause damage over time.  When a tree becomes weak, it does not take very much to make it fall.  A small storm could cause it to break, or any type of weight could cause damage. Proper care for the damage can help prevent further damage in the future.
Another great benefit of calling in an expert for storm damage cleanup is that we will take care of everything, leaving you with time to do what you normally do. We will make sure everything is safely removed and cleaned up.  You will be amazed at how fast we can get it taken care of!  Plus, we will haul everything away.  You will not need to try to figure out how you are going to get all the debris off of your property.
If you are in need of storm damage cleanup, contact us at Top Notch Tree Service.  We can come out and give you a free estimate.  We can help you get your property cleaned up in no time.  We are also insured, so you will not have to worry about a thing.  Give us a call today.